A guest column by Kersi Meher-Homji.
A minority community in India – only about 60,000 live there now – Parsis are the pioneers of cricket in India. Being anglophiles in the 19th century, they were the first to learn the game of cricket from the Englishmen. When the Hindus and Muslims had little idea of what cricket was, the Parsis took a cricket team to England in 1886.
That was much before the legendary Ranji and Duleep mesmerised Englishmen with their elegant run-making.
Originally from Iran, the Parsis (also called Zoroastrians) – followers of the prophet Zoroaster – settled in India about 1200 years ago because of religious persecution in Iran.
In all, 11 Parsis have played Test matches for India from 1932 (the first ever Test India played) to 1975. In alphabetical order, they are Soli Colah (2 Tests), Nari Contractor (31), Farokh Engineer (46), Jehangir Irani (2), Rustomji Jamshedji (1), Kharshed Meherhomji (1), Rusi Modi (10), Piloo Palia (2), Rusi Surti (26), Keki Tarapore (1) and Polly Umrigar (59).
Three of them, Engineer, Meherhomji and Irani, were wicket-keepers.
Only Contractor (aged 84 years) and Engineer (80 years) are now alive. Umrigar and Contractor captained India with distinction. Handsome Farokh Engineer was a flamboyant personality, scoring runs aggressively and keeping wickets like an acrobat.
Enough is written on a majority of these Parsi Test cricketers. This article features two less-known Parsi cricketers who played only one Test each and, while batting, remained unbeaten.
As I reported in Parsiana magazine (India) earlier this month, two "ji"s of Indian cricket were unique characters. Both were good-looking Parsis; one was a slow left-arm spinner, the other a wicket-keeper and a daredevil batter – an earlier day Farokh Engineer.
They were Rustomji Jamshedji Dorabli Jamshedji (1892-1976) and my uncle, the dashing debonair Kharshed Rustomji Meherhomji (1911-1982).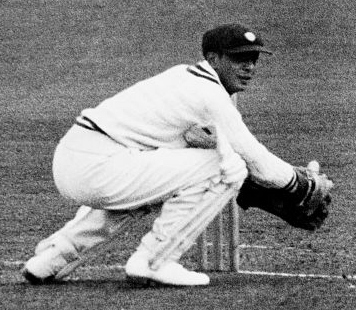 Jamshedji was the third Parsi to play Test cricket. The first two were Sorabji (Soli) HM Colah and Phiroz (Piloo) E Palia, who were selected in the first-ever Test match for India against England at Lord's in London in June 1932.
Jamshedji played only one Test on Bombay Gymkhana in December 1933, the first Test on Indian soil.
He was 41 years 27 days old when he debuted against England in the Bombay Gymkhana Test of 1933 and remains India's oldest Test debutant even after 85 years. The second oldest Test debutant for India was Cotar Ramaswami (40 years 39 days).
The only Indians to have played till over 40 years of age are Vinoo Mankad (last Test at 41 years, 300 days), Lala Amarnath (41y, 92d), CK Nayudu (40y, 289d), Sachin Tendulkar (40y, 204d), Ramaswami (40y, 60d) and Vijay Merchant (40y, 21d).
Jamshedji ("Jamsu" to his friends) remains the seventh oldest Test debutant in the world, after James Southerton (49 years, 119 days for England), Miran Bux for Pakistan (47y, 284d), Don Blackie for Australia (46y, 253d), Bert Ironmonger for Australia (46y, 237d), Nelson Betancourt for West Indies (42y, 242d) and Evelyn Rockley Wilson from England (41y, 337d).
Apart from Jamshedji, the only other Indian Test cricketers born in the 19th century were CK Nayudu (October 31, 1895) and Ramaswami (June 18, 1896). Ladha Ramji was born on February 10, 1900.
Jamshedji tossed the ball up to the batter uninhibitedly. He made his first-class debut at 30 and struck immediately, routing Europeans in the 1922-23 Quadrangular semi-final, capturing 7 for 85. In the final, he took 4 for 61 and 7 for 61.
He made his Test debut alongside Ramji, LP Jai, Vijay Merchant and Lala Amarnath. He remained unbeaten in both innings, scoring 4 and 1. He bowled only once in the Test, returning figures of 35-4-137-3. His victims included England's quality batter Charlie Barnett, Leslie Townsend, and Bryan Valentine.
Wrote Wisden 1935, "There was nothing better in the match than the catch made by Jamshedji, the slow bowler, in dismissing Townsend, a very hard return [catch] being held beautifully."
His bowling action reminded British writers of Hedley Verity, the legendary English spinner.
Jamshedji continued to play first-class cricket till he was 46. Only 29 of his matches (over 16 years from 1923 to 1939) were given first-class status. A tail-ender, he scored 291 runs at an average of 11.19 but shone out as a top-class spinner, capturing 134 wickets at an excellent average of 22.12.
The son of a bank employee in Bombay, Jamshedji worked as a clerk in Bombay Dyeing, a job he continued with after his playing days. He passed away aged 83. He will be remembered as the first specialist spinner to play Test cricket for India.
To quote the best-selling cricket author of Spell-binding Spells, Anindya Dutta, "One could, in fact, say it is poetic justice that it was a Parsi [Jamshedji] who has the honour of being India's first top-class spinner, given that it was his community who first embraced the game in India and helped make it mainstream."
Another Parsi cricketer, Kharshed Meherhomji, also played only one Test against England at Manchester in 1936 and always bragged to me in good humour, "No bowler could get me out in Test cricket."
This is how it happened. He was a reserve wicket-keeper and a dashing lower-order batter on that tour. Injury to the regular wicket-keeper D.D. Hindlekar allowed him to play his only Test. He did not forget that magic moment till he died on 10 February 1982, aged 70.
As good-looking as Keith Miller and Imran Khan, Meherhomji had a delightful sense of humour. Despite a pronounced stammer, he was the life and soul of a dinner party. He remembered his only Test appearance fondly and frequently.
"We batted first, and I came into bat at no. 10 with the score under 200 [at 8 for 188]", he recalled. "Our captain 'Vizzy' [Maharajkumar of Vizianagram] was soon out, and fast bowler Mohammad Nissar joined me. He slogged and was out for 13, and I remained zero, not out. As I did not bat in the second innings and was never selected in a Test again, I retired with a Test batting average of 'infinity'! You might say that no bowler could get me out at Test level!"
Nephew of stylish Parsi batter Rustomji Pherozsha Meherhomji (1877-1943), who had toured England in 1911, Kharshed shed an unusual insight on England's legendary batter Wally Hammond. "Don't you believe that Hammond was weak on the leg-side. We constantly attacked his leg stump, and not one ball came to me behind the stumps. He on-drove, glanced and hooked our bowlers relentlessly as he scored a magnificent century [167]."
This Test is memorable as 588 runs were plundered on the second day, which remains a Test record 82 years later. The Test was drawn, and the personal satisfaction for Uncle Kharshed was accepting skipper 'Gubby' Allen's catch and conceding only five byes in England's massive total of 8 declared for 571.
The two "ji"s combined brilliantly in the Bombay against Marylebone Cricket Club (MCC) match on Bombay Gymkhana Ground in December 1933. MCC batter RJ Gregory and Hedley Verity were stumped Meherhomji bowled Jamshedji.
Jamshedji took three more wickets, including those of master batter Charles Barnett, skipper Doug Jardine and Morris Nichols. Jamshedji finished with five wickets, and Meherhomji with two catches and two stumpings. Meherhomji had also top-scored for Bombay with 21 runs out of Bombay's pathetic total of 87 all out.
In 30 first-class matches from 1933 to 1946, Kharshed Meherhomji scored 656 runs at an average of 15.61, hitting two fifties, highest score of 71, took 61 catches and stumped 10.
As mentioned in my story in Parsiana, his cherished moment was hitting the dreaded English fast bowler of the bodyline fame Harold Larwood for four fours in five balls. This was for Parsees against Europeans at Bombay Gymkhana in 1936. I asked about this when I had interviewed Larwood in Sydney in 1980, and he replied with a smile, "One can't remember being hit all over the park after so many years, can you?!"
Meherhomji had become the first player to do a wicket-keeper's "catching" hat-trick earlier. On December 1, 1931, he accepted three catches off three successive balls from Ladha Ramji. This was for Freelooters against Railways in Secunderabad in the semi-final of the Moin-ud-Dowlah Gold Cup.
Since then, the wicket-keeper's catching hat-trick has been achieved only three times, all in England: by G.O Dawkes for Derbyshire in 1958, by R.C. Russell for Gloucestershire in 1986 and by T. Frost for Warwickshire in 2003.
But it took 75 years before Meherhomji's "catching" hat-trick was considered first-class. In 2006, Wisden Cricinfo recognised that match as first-class. Unfortunately, he was not alive to hear of this recognition.
(A guest column by Kersi Meher-Homji)